Designer Fine Jewelry
Nestled between the distant mountains of Valencia and the Mediterranean Sea, the renowned
Candela Family of Master Jewelers
follow their passion for fine jewelry and the beauty of Spain to offer the designer jewelry collection of Andréa Candela. Wrought from gleaming sterling
silver accented with 18K gold
, each collection features fine diamonds,
exotic gemstones
, or lustrous freshwater cultured pearls.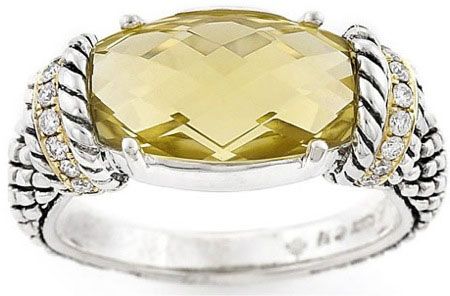 Ibiza Silver & Gold Lemon Quartz Ring

Sterling silver and 18K yellow gold Lemon Quartz ring featuring diamonds weighing .13 carats.
$570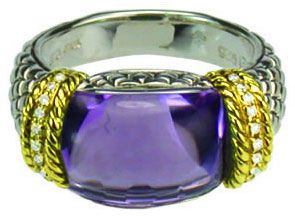 Rodeo Silver & Gold Amethyst Ring

Sterling silver and 18-karat yellow gold ring featuring 9x12 mm cabochon Amethyst, eight diamonds and weighing .13 carats.
$850
Ibiza Silver & Gold Blue Topaz Ring

Sterling silver and 18-karat yellow gold Blue Topaz ring featuring eight diamonds weighing .10 carats.
$660
See more
ANDREA CANDELA JEWELRY
at pampillonia.com.
It was in this same Old World tradition of quality and design that
the Andrea Candela designer brand
was created in 2004. Inspired by the beauty and heritage of Spain, Andrea Candela designed a magnificent collection of jewelry. Immediately recognizable by the unique Armadillo finish and rope edge design trademarks, Andrea Candela has become one of the most successful new introductions in the jewelry industry.
Much has happened since the original designs were created and the first collection, Alhambra, was introduced in Europe and North America. Andréa, while still involved in the family business, has passed design responsibility to the
design team in the United States
to carefully analyze the markets worldwide and bring their customers beautiful jewelry that is universally acknowledged to be among the most original and finest available.